Make your own deodorant with doTERRA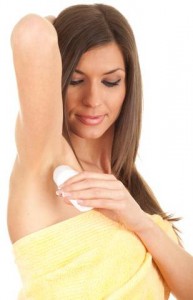 *Inspirted from http://www.deliciousobsessions.com
Finally! A homemade deodorant recipe that works… . I gave up commercial deodorants a long time ago, since I knew they were filled with all sorts of toxic ingredients….especially ingredients like aluminum which is known to expedite breast cancer!
—
DIY: Homemade Deodorant Recipe
2 tbsp. beeswax granules
1¼ tbsp. shea butter, cocoa butter, mango butter, etc. (I used shea)
1¼ tbsp. coconut oil
½ tbsp. bentonite clay
½ tbsp. baking soda
 5-6 drops each doTERRA's Lemon, Grapefruit, Purify Blend, Lavender, Patchouli & Frankincense essential oils.
—
DIRECTIONS
1. In a double boiler, or a small saucepan over very low heat, combine the beeswax, coconut oil, and shea butter until melted completely and mixed well.
2. Whisk in the baking soda and be…
3. Remove from heat and let cool for a few minutes and then stir in your essential oils.
4. Take an old (clean) deodorant stick and make sure the plunger thing is twisted all the way down. Carefully pour your warm mixture into the container.
5. Let sit with the cap off until it has cooled completely. Then, use as normal….
———
You get the health benefits of having daily frankincense exposure, the detoxing capabilities of Purify, odor producing bacteria killing effects of the lemon, the cellulite reducing effects of grapefruit, and the grounding effect of Patchouli!
–
You can mix & match some of the oils based on preference of fragrance – however –  It is important to realize, that although you can play with this mixture, you will need to have a heavy or low tone oil like Patchouli, Sandalwood, Myrrh, or Vetiver if you want the deodorant to be effective all day.  The heavy oils dramatically lengthen the time it is active on your skin.
Also, if the blend feels too strong for your skin, reduce the Purify and Grapefruit then increase the Lavender.
–
The bentonite clay helps with moisture and odor control, as does the baking soda. If you are sensitive to baking soda, I believe arrowroot or corn starch would work just fine, though I have not tried that….
———-
Have fun!  …and next time you are in the store and a stranger can't help but sample your aroma you will know why.
—–